Products
The SESAM Professional programs have a modular structure. All program modules can be used independently (of location) by the others. SESAM-Professional has an excellent command of this distributed work at different locations, which is common in the film industry, and the subsequent consolidation of the data. Benefit from our many years of experience.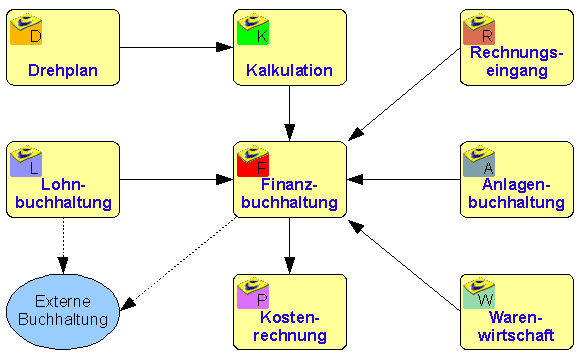 Data flow diagram with possible links between the individual SESAM modules
The data is captured once and can be evaluated several times in the other modules via SESAM interfaces. For example, data captured in SESAM-Rotation can be transferred to SESAM-Kalk for further processing. The calculated values are read in by SESAM-Fibu or SESAM-Kost. In this way, they can be immediately incorporated into the cost status as a calculation basis.
The connection of the SESAM modules to your existing accounting system is also proven to be problem-free. We have developed suitable interfaces for various systems (e.g. DATEV, SAP, Sage, SoftM, Lexware, etc.), which can also be individually adapted at any time.
We would be happy to advise you on the development of such workflows and structures in your company.
E-Post-Logo

SESAM Software GmbH is now a partner of Deutsche Post AG (API)

Write, print, envelope, frank and send invoices. The digital age has not yet found its way into the daily business correspondence of many companies. We are pleased to be able to offer our customers an innovative solution. Users of the SESAM-Wawi can now send letters with just one click, thus saving material costs and valuable working time. An EPOST interface makes it possible.

Daily items such as invoices or reminders are no longer printed out and sent by the user himself, but generated by our SESAM-Wawi with one click and delivered by post. Writing letters has never been so easy!

Deutsche Post AG stands for certified data security and processing, confidential letter dispatch and high security standards.

Run our E-POST update now and save time and money!

GKV-Zertifikat

SESAM-Lohn Professional has been system-tested by the ITSG (Informationstechnische Servicestelle der gesetzlichen Krankenversicherung GmbH) since 2006 and holds the GKV certificate as audited payroll accounting software. The ITSG thus confirms the high product quality of SESAM-Lohn Professional.

All statements of contributions and SV notifications are thus transmitted electronically from SESAM-Lohn Professional directly to the respective acceptance offices of the statutory health insurance funds in accordance with the DEÜV (Data Acquisition and Transmission Ordinance).

Elster-Logo

SESAM-Lohn Professional and SESAM-Fibu Professional submit the reports to the tax office (income tax registration, income tax certificate and advance return for sales tax) electronically via the Internet. (ELSTER procedure).